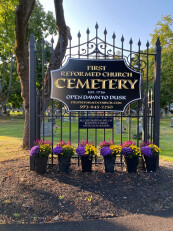 Questions about First Reformed Church Cemetery burials, plot purchases, the ash garden, columbarium, property maintenance or other cemetery-related issues can be answered by contacting Cemetery Manager Forrest Harper at:
Cell phone: 862.926.9813
Office phone: 973.872.2632
Send an email using the form below.
The Cemetery Office's phone is not staffed full time but is checked frequently. You may find the answers for many questions on the First Reformed Cemetery website's Policies and Procedures link below.
We do our very best to respond promptly, but if you require a faster response please contact: Elaine Bednarek
Phone: 973.845.2250
Email:
---
Cemetery visiting hours: Dawn to dusk.
The Boulevard gate at the rear of the First Reformed Church Cemetery will be periodically open and closed as is needed for maintenance and safety. Visitors will be informed if the gate is closed via a sign posted alongside the Cemetery road near the rear of Grace Chapel. Thank you for your understanding and cooperation.
Call or email for office appointment:
Cemetery Office: - 973.845.2250
Cemetery Manager - Forrest Harper: - Office: 973.872.2632 - Cell: 862.926.9813
Click here to access cemetery forms and applications.
Click on any area of interest for more information.
"The First Reformed Church Cemetery. A holding place for memories and faith."