"The Parish Mausoleum" - By Rich Chere
Standing among the archetypal head stones and majestic trees in the First Reformed Church Cemetery is a distinctive and somewhat unexpected structure that often catches the attention of visitors.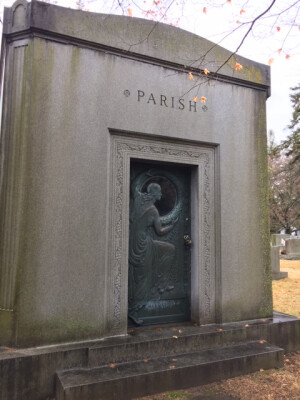 The Parish mausoleum has stood since 1933, yet its story is unknown to most church members and even to longtime township residents. It is a tale that has come to light as the current Cemetery Commission undertakes a renovation of the almost 90-year-old mausoleum in an effort to restore its beauty and prevent deterioration caused by weather.
LeGrand Parish was an extremely wealthy railroad supply magnate and vice president of the Passaic County Parks Commission during the early decades of the 20th century. Both he and his wife, the former Margaret (Madge) Little Parish, are interred in the mausoleum. Born on April 13, 1866, in Friendship, N.Y., LeGrand Parish accumulated his wealth via many railroad patents, including the train car door latch, an air brake coupling mechanism, as well as steam circulation and lining systems for fireboxes. He had also been an associate of Thomas Edison.
The Parishes lived in the Mountain View section of Wayne on what was then called Lower Preakness Avenue and is now Parish Drive. In July of 1930 they gifted almost 49 acres of land near the Dey Mansion to be developed into Preakness Valley Park and Golf Course. It is now known as the Passaic Valley Golf Course.
On May 10, 1933, at the age of 67, LeGrand Parish died in Hackensack Hospital from a heart attack. He was buried in the "extreme westerly part" of the First Reformed Church Cemetery, where one July night that summer two men carrying shovels and picks entered the cemetery around midnight and began to dig up his grave. Neighbors who lived near the cemetery saw the men and called police. The potential grave robbers, called "ghouls" in an August 1, 1933 New York Daily News headline, fled. Police speculated that they intended to hold LeGrand Parish's body and demand a ransom from Mrs. Parish. It was also suggested that they could have been looking to sell the casket, which was worth close to $5,000 (that's almost $115,000 today), or steal valuables. Armed guards were stationed at the grave after the incident. How long they remained is not known, but Margaret Parish, who inherited what newspapers at the time described as a "$1,000,000 fortune," decided to build an elaborate mausoleum.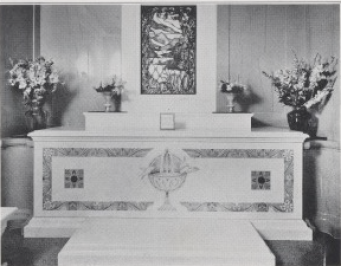 Designed by the Jones Brothers of Boston, who also created mausoleums for the Ringling, Heinz, Firestone, Hershey and Woolrich families, the structure was comprised of Barre granite. It was described by former FRC pastor Rev. Eugene H. Keator in his 1936 book chronicling our church's history as "one of the finest mausoleums of any cemetery in the State of New Jersey and possibly in the United States of America… It combines beauty, significance and architectural distinction." At 13 feet, 9 inches high; 13 feet, 6 inches wide; 14 feet, 8 inches deep, it featured a mosaic which formed part of the altar, with a motif of white doves named Sunset in the Garden of Allah. Constructed by Riverside Marble and Granite Works of Paterson and boasting stained glass from Tiffany of New York City, the mausoleum cost an equivalent of more than $1 million in today's currency. The foundation of the mausoleum was completed on Nov. 13, 1933.
Margaret Parish suffered a heart attack at the age of 70 and died at home on April 15.1939. She had returned to Wayne a week earlier from St. Petersburg, Fla., where she spent each winter. A funeral service held at her home in Mountain View included Rev. Keator and Rev. L.L. Leaver of Bound Brook. Mrs. Parish was interred in the mausoleum next to her husband. According to the Morning Call newspaper on April 20, 1939, Margaret Little Parish "had no family relatives to survive her."
Consequently, the FRC Cemetery Commission has undertaken the task of renovating the historic mausoleum, which has suffered suspected vandalism and general deterioration over the years. If anyone knows of any connections to the Parish or Little family, please contact cemetery manager Forrest Harper.
---
"The Cemetery Tree Project" - By Mark Convoy
If you've ventured into the cemetery in the last couple of months, you've no doubt
noticed a lot of tree work being done. Thanks to our cemetery manager Forrest
Harper and his son Forrest Jr., a certified arborist, our collection of trees are being
surveyed and evaluated for safety and overall health. After having evaluated the
older trees not only from the ground level, but also from a bucket's "top-down"
view, some of them have been cut down due to the risk they posed to people and
monuments. Other trees have only needed pruning. As the work progresses, plans
are being made to replace the older trees and plant new ones that are appropriate to
our local climate. The Cemetery Commission anticipates that our tree program
will be completed sometime this spring.
Some folks have asked why so many trees have had to be cut down. First, while
not apparent from the outside, many of the older trees were, in fact, accidents
waiting to happen- hollow and defective on the inside. Second, most of these older
trees have aged together since they were planted at the same time when the church
was engaged in a "cemetery beautification" program in the 1920s.
Our thanks to the Consistory for approving this project back in the fall, and to
Forrest and Forrest for implementing a program that has never been so thoroughly
done in our cemetery.
---
"The Cemetery Fence" - By Rich Chere

It stood for a century along the perimeter of the First Reformed Church Cemetery, a blend of wrought iron strength and beauty.
And then, in an instant in August of 2020, Tropical Storm Isaias left a portion of the historic fence as little more than debris destined for a scrap dumpster.
Or so it seemed.
A large tree in the yard of a neighboring Cooper Road home had come crashing down from the winds of the storm, impaling itself on a post that connected two sections of the fence. Three sections were damaged.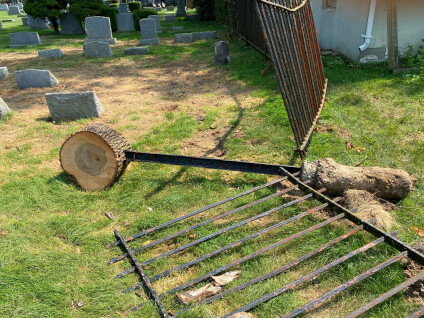 "I expected it would wind up in a dumpster somewhere to be recycled," says FRC Cemetery Manager Forrest Harper, who has dealt with the destruction left by numerous storms, including Hurricane Sandy in 2012.
Improbably, it wound up in a Brooklyn, N.Y., art gallery as part of a sculpture created by artist Jeffrey Mase.
That was not part of the plan when Ken Grimbilas took on the task of repairing the fence. As the guiding force of the FRC Cemetery Commission, Grimbilas has generously followed his passion for maintaining and improving the cemetery.
At Tornqvist, his metal fabricating company in Wayne, he had produced replacement fence panels in the aftermath of Sandy.
"Ten of them had to be made from scratch. I made a couple of extras and we ended up with six or eight additional panels which we stored in the garage for the next Sandy," Grimbilas recalls.
"Thankfully it wasn't a Sandy that hit. It was a bit of a storm involving a tree that should have been removed."
The first sections of the Cemetery's wrought iron fence, as well as four stone piers, were installed along the Boulevard near the end of the 19th century and beginning of the 20th century at a cost of $1,454. It was a gift from Julia M. Peck.
In the late 1920s an additional 3,200 feet of fence was installed along the Cemetery's perimeter at a cost of $6,752. That brought the total cost to $8,206, which would be equivalent to $134,000 today, although wrought iron fencing would be far mostly costly today.
Before the new fence could be installed, the damaged sections had to be removed.
"It probably remained on the ground (in the Cemetery) for a month," says Grimbilas. "I asked Forrest to remove it and, if he didn't have a place to put it, to drop it off at my shop and I'd put it in the scrap dumpster. A couple weeks later Forrest showed up, put it on the lawn behind my building and it sat there. For whatever reason, we didn't put in in the dumpster."
Two iron "I" beam posts, an impaled section of the tree and cement footings were destined for better things.
Mase, a former 1975 New Jersey state wrestling champion (122 pounds) for Bridgewater West High School, owns a firm that does custom metal work. A resident of Bedminster, he has completed projects for the Grammy parties in New York, a historic fence for Bette Midler and metal work for wealthy clients that others would or could not handle.
Art is his hobby, not his profession.
"I do a fair amount of work with Ken and he brought those two elements to his fabrication shop. They were laying in the parking lot and I saw them," explains Mase, who graduated from NYU in 1979, studied welding in Ohio, furniture and architectural work with blacksmith Guiseppe Barsi in Italy and has had art studios in Greenwich Village and Bedminster.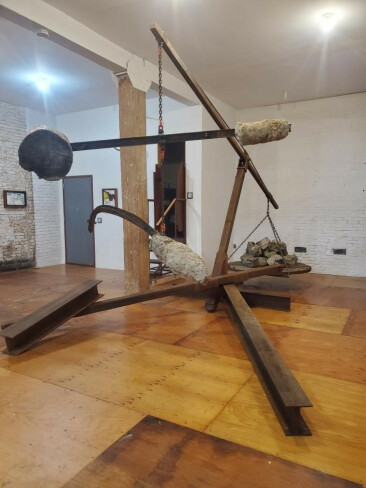 "When that tree fell it impaled itself onto one of those 'I' beam posts and it looked as though it grew around that post. When I first looked at it I thought it had grown that way. How else could you get that 'I' beam perfectly embedded into that section of the tree? Then I realized it probably had fallen and impaled itself.
"When they removed it, it was almost like a barbell where you had the tree stump, the 'I' beam and the concrete root ball on the other end.
"The other element was a fence post that actually got bent inside of that. I thought it might be interesting to have these two objects suspended, one from the other, floating out in space. Each one weighed 300 to 400 pounds. That was the inspiration I had, to have objects of that mass and that weight just kind of floating in space." Mase has worked with metal, concrete and wood.
"Jeff's a one-man band. The post weighs maybe 300 pounds with the concrete on it," says Grimbilas. "He's got the classic, run-down van that doesn't look like it's going to make it another mile.
"Away it went. I had no idea what he was going to do with it."
The piece is not named. It will remain in a show in Brooklyn through January and then likely be placed in the Whittemore Sculpture Garden in Tewksbury, where Mase has other works.
"I'm not really big on naming my pieces. I refer to it as 'Balance' at this point in time," says Mase, who needed 800 pounds of counterbalance material.
And so, the fence, in another form, lives on.
"I didn't expect to see it in an art exhibit," Harper admits. "I can't think of a better way for it to be recycled than what it is now. Pretty neat where it ended up. Pretty creative."
---
Interesting Facts About The First Reformed Church Cemetery
1.The oldest legible grave stone/monument is dated 1786.
2.There are six former First Reformed Church Pastors buried in the Cemetery, including Orville L. Sigafoos, Henry W. Teller, Eugene H. Keator, Edwin T. Jones, Donner B. Atwood and William C. Bennett.
3. Additionally, Rev. Hermanus Meyer (Pastor 1772-1791), is buried in the First Reformed Church sanctuary.
4. The historic Cemetery covers 12 acres.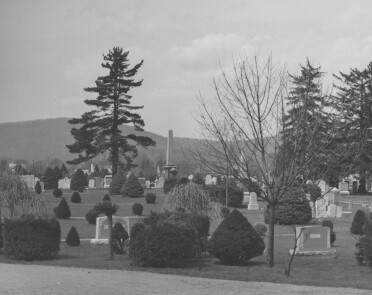 5. Among the graves of veterans from all wars are those of 90 Civil War veterans and eight veterans of the Revolutionary War.
6. In 1936 Pastor Eugene H. Keator conducted the purchase of the C.W. Tate Evergreens nursery for $4,250, which became part of the Cemetery. Pastor Keator continued to grow shrubs and trees on the parcel of land.
7. A groundskeeping crew of six can mow and trim the 12 acres of grass in one day.
8. In 1928 the wrought iron fence was installed on the perimeter of the Cemetery at a cost of $8,206.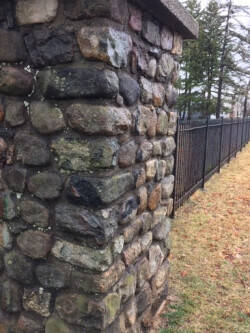 9. There are 8,896 spear pickets on the wrought iron fence, along with 495 posts.
10. Congressional Medal of Honor recipient Captain James F. Evans (1845-1918) is buried in the Cemetery.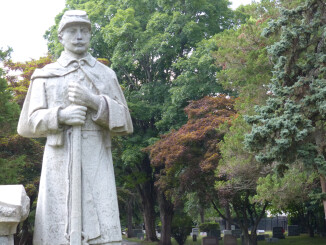 11. Among other notable graves are those of Cornelius W. Mandeville, a major general in the New Jersey State Militia, who was a friend and protege of President Andrew Jackson; and Peter Hopper, who was chief manager of The Morris Canal.
12. The LeGrand Parish mausoleum, built with Barre Granite and Tiffany adornments for Mr. and Mrs. Parish, is recognized as one of the finest in New Jersey. LeGrand Parish passed away in 1933. Adjusting to today's dollar, it cost Mr. Parish an equivalent of more than $1 million to build the mausoleum just over 90 years ago.