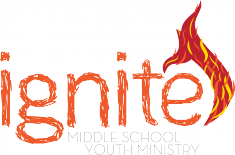 IGNITE Middle School Youth Ministry is for youth in 6th-8th grade. During the school year we meet meet on Wednesday nights for FUEL Youth Group. This programs begins in Friendship Hall at 6:30pm. We also meet on Sunday mornings during the 10:00am worship service.
Friends and visitors are always welcome!
If you have any questions about our Youth Programs, call Dave Sippel, our Minister of Congregational Engagement, at 973-835-1144 x28 or send him an email.
Click here to receive text message or email updates about middle school activities.
WEEKLY EVENTS:
SUNDAY MORNING FUSE AND IGNITE - Classes begin on Sunday, September 17th. Middle school (IGNITE) meets in the room across from the choir room. High school (F.U.S.E.) meets in the basement of the Ministry Center. Youth are encouraged to come to worship at 10:00am. They will be dismissed from there to their classes. Sunday morning classes typically take a break for the summer.
FUEL YOUTH GROUP - Wednesday evening youth activities will begin on September 13th. Middle school and high school youth are invited for snacks, activities and a lesson to get growing. FUEL meets in Friendship Hall from 6:30pm to 8:00pm. Friends are always welcome!
UPCOMING EVENTS!.(Click for more details.)
October 20th to 22nd - Fall Retreat. Our youth always look forward to this combined middle school and high school retreat. We'll stay in mountainside lodges at Spruce Lake Retreat Center and eat in the dining hall. Registration is open online.
April 19th to 21st, 2024 - Middle School Mystery Weekend
July 13th to 20th, 2024 - High School Summer Mission Trip
Info about registration and payment: We use Paypal to process your registration, but you do not have to have a Paypal account.
FORMS and PERMISSION SLIPS: Click to Download